Sportscene a whirlwind in the retail space.
Sportscene's flagship store in Sandton has made a whirlwind in the retail space. Experiential retail has recently proved its necessity in consumer markets being dominated by the likes of takealot.com and other online stores.
Sportscene's flagship store took no shortcuts in delivering on experience earmarked by consumers as the place to be. With all there is to offer at Sportscene, South Africans get to enjoy the biggest trend in retail 2019. While some sections of the store can be improved to tick off the experiential retail list, the store offers an impressive array of services. We visited the store and offered a detailed verdict.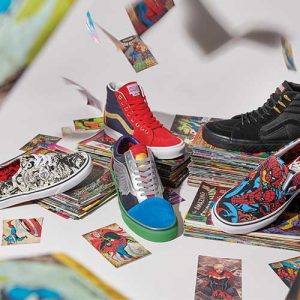 Visual elements in the store are impossible to miss. From the time you walk in and until you make your way to the end of the store, hip-hop culture engages your sense of sight. Digital screens are all around and in some ways, too many. It may be too distracting for consumers to fully embrace the décor of the store because you are constantly bombarded with digital moving images.
That being said, décor in the store is a seamless design that translates the consumer into a Joburg-city vibe. Grey raw concrete walls and subway tiled floors are framed with black pillars while bright splashes of color decorate walls in graffiti. Sportscene elegantly adds interesting décor through the creative use of Grafitti.
"It serves two purposes, the first highlights the spirit and identity of their chosen consumer".
Secondly, Grafitti compliments bright color clothing apparel by chosen brands across the store (Nike, Kappa, Addidas, Fila, etc). Throughout Jozi, one views bright random meaningful pieces of art. As such, Grafitti is a crucial sight-sensory element to the store as it highlights the nature of hip-hop culture.
The chosen industrial design of the space offers a bare industrial-inspired ceiling. This works well with both chosen lighting fixtures and the mood said lights create. Lighting is functional too in the sports scene flagship store. Light presents apparel as the main show bright and clear. In the fitting room area, the dimmer light allows consumers the feeling of comfort and a little homelier vibe.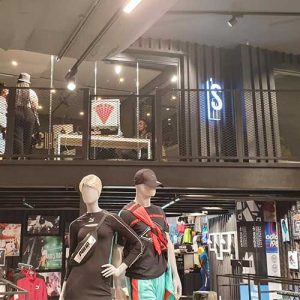 Varied textures around the store make for an interesting and engaging experience. Set with modern décor, consumers find soft comfy suede simple couches to lounge around on. Amidst black lines, you will also find face-brick accent walls, mirrors, white walls as well as metal roof sheeting all around. Roof sheeting is an ideal material to use in the space as it not only symbolizes Jozi-city but also compliments the other textures around the store. The only thing lacking, and still, a fairly new trend is greenery. Found in one of the greenest city's in the world, Sandton (Johannesburg) Sportscene would do well with adding greenery in strategic points of the store.
Two elements that were not really utilized our senses of taste and smell. Perfume, cologne, and scents for consumers to remember (in a nostalgic/positive way) should be added. Taste could be added to the store by means of a coffee area (if that fits their business model). Although, it may be to some that taste is not really a desirable element in clothing retail.
Sportscene achieves high on the sense-of-sound-barometer. Walking into the store, a consumer is already encapsulated by the music of South African hip-hop culture. When opening their store, the likes of Nelz and Nasty C, born and bred South African hip hop icons graced their stage. Their music articulates the identity of those who shop at Sportscene. Young and conscious South African's identify with the success of these hip-hop stars and dance a beat to the music when in-store. Sportscene has made its playlist available on their website. Consumers can enjoy a song and then download it. Sportscene radio is also available on Spotify. Music is crucial to the Vibe Sportscene aims to deliver.
When in-store, the sounds of staff members are interesting and seamlessly add to the vibe of hip-hop culture too. Now recognized as a privilege to work in the flagship store, Sportscene staff communicate on walkie talkies using language that township, Jozi-city-born consumers understand and relate to. Language signifies of one's identity and is found very well sewn into the experience at Sportscene.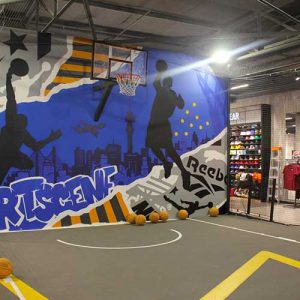 There are two elements in Sportscene that add value to their consumers. Lounging areas are comfy enough for people to dwell around trying on apparel. There are wifi and charging stations available for consumers. Consumers also have access to gaming areas and a basketball court. This ability to actively participate in entertaining activities mean two things, one consumer finds some type of value visiting the store. Two, consumers stay longer in the store.
Sportscene has managed to increase dwelling time and potentially increase sales by offering the "wow" factor experience to its consumers.
For consumers uninterested in playing basketball or Xbox, a laundry-shoe parlor is at your service to clean your worn sneakers purchased at the store or not. Daring consumers can purchase black and white tattoos if they wish.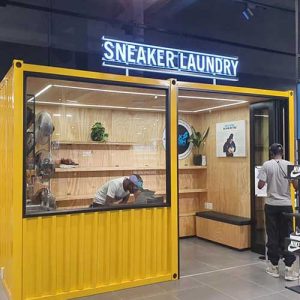 Sportscene is a retail space for South Africans to visit even if it's just for their conveyor belt service. When consumers are in need of different sized apparel, a walkie talkie in the hand of staff members signal staff in the stock room to send out correct sizes through a conveyer belt driven service from a wall.
It is a marvel to see and entertaining for most, enough to just tick it off as a social-space consumer visit with friends. Sportscene proves to be an Insta-worthy/social media destination.
Sportscene has made it convenient and easy for consumers to purchase in and out of the store.
Omnichannel retail options are available to consumers online and in-store. Click and collect functions assist consumers to walk in and navigate to modern well-organized lockers where online purchases await.
Staff is equipped with easy to identify uniform (black t-shirts and relevant accessories). They are also tech-equipped with the latest mobile point-of-sale checkpoints. As mentioned earlier, working at Sportscene Sandton has become a privilege for Sportscene employees. The nature of the relationship staff members has with Sportscene contributes to the work ethic in-store. Staff seems excited and joyful, fully equipped to perpetuate and identify themselves with brands and ultimately the culture they sell.
There is an ease to maneuver around the store with labeled sections of specific brands. Sportscene organized their store strategically with consumers in mind. Jeans from all brands are found in one place and dominating brands are given their own showcasing space. At the entry of the store, one can view the hottest, trendiest sneakers (icons) before even walking in. All the way at the back NIKE Air has its own concept-bubble presenting the historical iconic NIKE Airs.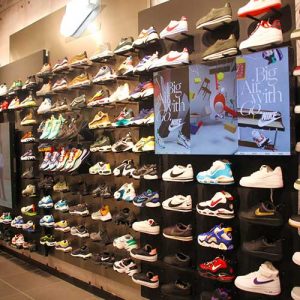 Generally speaking, the Sportscene flagship store reigns supreme for two reasons; one Managing the brand in-store and two Offering a meaningful experience to consumers. All throughout the store, Sportscene is labeled as "king of sneakers" in many different forms and fonts. Grafitti on the walls, labels on pillars and lit up wall signs synonymously leads the consumer to view them as just that: "king of retail in the hip-hop, sporting apparel" industry.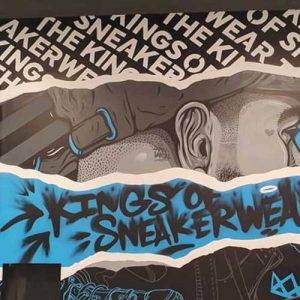 Consumers are attracted to the store because it is an experience! Visiting to buy tracksuits or to play a game of basketball, consumers know where to find what they are looking for. The design of the Sportscene store seamlessly provides consumers not just ease-of-purchase but a hip-hop home for them to identify with through culture they ascribe to and in doing so ultimately consume.
There are a couple of small changes Sportscene could make to tick the list of experiential retail (even though they score high on our barometer).
"Sportscene design is well thought but may feel too cramped in the entrance of the store. There is a ton of space toward the back of the store that could potentially be used better".
Too many digital screens may be too extreme and distracting for some as brands advertise their latest stock.
Having said all the above, Sportscene scores high as a brick-and-mortar space footing the bill and delivering on experiential retail. South Africa has a great opportunity to experience and engage with fifth-avenue worthy apparel. As should be internationally recognized, Sportscene succeeds in bringing South Africans an experience that is contextual, proudly South African in nature, and true to Kasi-hip-hop identity.
Ready to scale your retail? Our team of POSibolt consultants are on hand to help you grow your business. Click on the link to request a callback: https://posibolt.co.za/contact/ or visit us at https://posibolt.co.za/